Body
Language
The European University of the Atlantic, in its clear commitment to the teaching and learning of languages, offers the following language courses:
English (from level B1 to C2)
German (from level A1 to C1)
French (from level A1 to C1)
The courses are organized into four terms and comprise four hours of class per week.
SPANISH FOR FOREIGNERS
In its continuous commitment in promoting Spanish language and culture, the University also offers intensive Spanish language courses from level A1 to C2 of the CEFRL. These courses:
Are offered in two periods: from September to December and from February to May.
Consist of 16 hours of class per week and 4 hours of practice in a language laboratory.
Focus on learning general Spanish, with special emphasis on productive and interactive skills (oral and written skills).
Prepare candidates for the diplomas acreditativos de español DELE as awarded by the Instituto Cervantes.
LANGUAGE CLASSES IN UNEATLANTICO:
Follow a communicative and interactive methodology.
Are adapted to student learning needs.
Are multicultural.
Have an expert teaching staff in foreign language didactics.
Follow CEFRL guidelines.
Work on the contents, competences and language skills in a dynamic and integrated way.
For more information, please contact secretaria.academica@unetlantico.es
Accreditations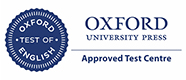 As an officially authorised examination centre of the Oxford Test of English (OTE), the European University of the Atlantic offers the university community and outsiders the opportunity to prove their English language skills in a reliable and secure manner.
The OTE test as certified by the University of Oxford, is officially recognized by the Spanish Government, the Spanish Service for the Internationalization of Education (SEPIE, Servicio Español para la Internacionalización de la Educación), regional governments, or the Conference of Rectors of Spanish Universities (CRUE, Conferencia de Rectores de las Universidades Españolas), among many other entities and organizations.
TEST CHARACTERISTICS:
100% online.
Follows the CEFRL guidelines.
Certifies three levels: A2, B1 and B2.
Evaluates the four language skills in a modular manner (speaking, listening, reading and writing).
Offers the option of taking all the modules (full test) or independent modules.
Is a single test adapted to the candidate's performance which certifies at one level: A2, B1 or B2.
Has a 2 hour duration (complete test).
For more information on the test in the web page: https://www.oxfordtestofenglish.es/
NEXT CALL
COSTS
|   | Complete test | Modular test |
| --- | --- | --- |
| University community | 89€ | 41€ |
| Outside candidates | 99€ | 45€ |
REGISTRATION
Information available as of December 2021.