Body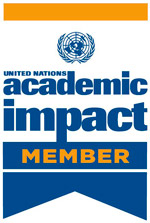 The United Nations Academic Impact Initiative (UNAI) aligns the efforts of higher education institutions with those of the United Nations in order to support and contribute in achieving the goals and mandates of the Organization.
The UNAI has since 2010 created a dynamic and diverse network of students, university professors, scientists, researchers, think tanks, higher education and lifelong learning institutions, as well as educational associations. The initiative has more than 1,400 members in over 147 countries, reaching more than 25 million people across the education and research sectors worldwide, representing a global diversity of regions and a wide thematic range of disciplines.
The European University of the Atlantic joined the UNAI community on March 23, 2018, and is one of 26 Spanish institutions represented in this initiative.
Acting as an incubator of new ideas and solutions, the University seeks to address the challenges facing today's society, with institutional work being central to achieving the Sustainable Development Goals.
Reports
Certificate