Body
Universities in the 21st Century
The European University of the Atlantic has developed a teaching methodology based on rigorous and scientific theory in combination with practical knowledge and skills acquired form the first day on and throughout the degree program. The University bases its teaching-learning model on the following fundamental pillars, with the goal of training future professionals:
Methodology: the UNEATLANTICO methodology revolves around achieving practical knowledge through active student participation in their own learning process. To reach this goal, group work and multi-disciplinary teamwork, participation in real projects and professional internships, as well as tutorials and supervised work, allow students to develop the skills and competencies that respond to current job market demands.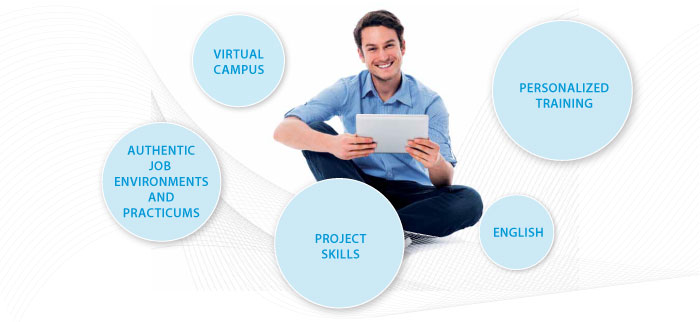 Personalized Training
The faculty attend to the orientation and follow-up of each student, establishing complementary training programs that guarantee the successful achievement of goals in every subject.
Authentic Job Environments
The University is designed so that students can begin to practice their future profession from the first year, encouraging entrepreneurial initiatives and first-hand knowledge of the business world. Students receive specific training in learning how to manage and design projects. In addition, agreements with companies and institutions facilitate the immersion in the professional environment for students in their final year to be able to apply their learning in the workplace.
Language Learning
The overall goal is for all students to finish their undergraduate degree (Grado) with proficiency in two languages in order to practice their profession. Therefore, beginning in the second year all students take courses in English, and in the third year they may take regular subjects taught in English.
Virtual Campus
The University places special emphasis on the use of technology in all of the degree programs taking into account that they enhance learning. E-learning tools (forums, chats, internal messaging, virtual libraries, recommended and required readings…), is how students complement classroom learning, continue debates, and delve further into topics of interest. From the beginning all students receive course materials for each subject and personalized information to access the Virtual Campus.