Top Banner

Presentation
Cuerpo
The Universidad Europea del Atlántico offers the Degree in Applied Languages in response to the educational needs and interests of those students who wish to acquire the professional profile of language specialist. This degree programme is suited to those students who intend to channel their university education towards the productive and receptive mastery of various languages and their direct application in a variety of working environments.
In this sense, the Degree in Applied Languages is an innovating addition to the existing Spanish university scene, clearly oriented towards the demands of the marketplace and fully in consonance with today's multilingual, global and digital society. Course highlights include:
A trilingual study programme in which students will achieve a C2 level of proficiency in English andSpanish, and a C1 level in a second foreign language (French or German).
The possibility of studying a third foreign language(French or German) to C1 level.
The opportunity to undertake specialisation in one of the following areas:

Languages and educational environments(MLENyENTEDU)
Languages and business environments(MLENyENTEMP)

Internships are considered of paramount importance,and for this reason these placements are awarded a 12-credit weighting within the study programme.
Special attention is given to the acquisition of computing and information skills.
Provision of modern facilities that enable the student to develop the practical competences envisaged in the degree's learning outcomes: a language laboratory together with computer facilities equipped with advanced computer-aided software.
Competences
Career Opportunities
Cuerpo
Students graduating in Applied Languages from UNEATLANTICO may choose to work in the following professions:
Language teacher at different educational levels
Writer, editor, corrector and translator of oral and written texts
Consultant for languages, communication and protocol in business, institutional and organisational environments
Linguistic and cultural mediator in social environments
Designer of linguistic utilities in computer-based environments
Translator specialised in specific areas, such as the legal and financial, scientific, literary or audiovisual fields
Administrative assistant and archivist employee in multilingual environments
Linguistic policy makers
Bilingual Education
Cuerpo
In the Degrees in Translation and Interpretation and in Applied Languages ​​students receive a trilingual training: in Spanish, English and French or German. In order to access the studies, students must prove a B1 level in English. In the case of French and German, no prior knowledge is required.
The language training offered in english Throughout the studies it allows students to reach a level of mastery in this language (C2) and, in this way, be able to compete in the labor market in equal conditions with respect to graduates of these degrees in other European countries.
To this end, a curriculum has been designed in which, in addition to the fact that students learn English from the first year, 50% of the compulsory subjects have this language as the vehicular language.
Likewise, in these grades students must choose to study a second foreign language: French or German. In this case, despite starting the studies without prior knowledge, the training that students receive from the first course allows them to master both oral and written skills (level C1) and take courses taught in these languages ​​in the second cycle.
Engage in your profession
Side Banner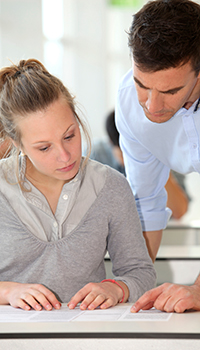 Cuerpo
UNEATLANTICO creates an authentic business environment
The campus of the Universidad Europea del Atlántico is designed so that students can practise their profession from the first year onwards. The University offers modern and fully-equipped facilities that simulate the authentic business environments that students will experience upon completing their degree. There are laboratories for the study of Physiology, Food Technology, Languages, Food Science and Biomechanics, while dedicated facilities are provided for projects involving computing, business, nutritional assistance, psychological guidance and counselling, and translation and interpretation. In addition, the University also offers computer labs, a library, as well as radio and television production and post-production studios.
Faculty motivate students to become involved in campus life and guide them towards creating projects and developing ideas that enhance their professional development from the the very first year of their studies. The learning model is not limited to covering a syllabus, but intends to guarantee a solid theoretical-practical education in which students feel fully engaged in their professional area.
Furthermore, the University has signed numerous internship agreements with a wide range of business entities that complement formal university education and facilitate the development of the cross-curricular skills needed to break into the job market.
A true indication of the importance that the University places on innovation and knowledge transfer is the establishment of the Centre for Research and Industrial Technology of Cantabria (CITICAN). CITICAN is a scientific foundation through which RDI (Research, Development and Innovation) from the academic institution is channelled.
Degree
Once the student has completed the program, they will obtain a GRADUATE DEGREE IN APPLIED LANGUAGES as issued by the European University of the Atlantic.
Study Programme
Cuerpo
First Year
SEMESTER 1
SUBJECTS
CREDITS
TOTAL
30
English I
6
French I/German I
6
Applied Linguistics and Society
6
Learning Strategies and ICT Competence
6
Spanish Language and Communication I
6
SEMESTER 2
SUBJECTS
CREDITS
TOTAL
30
English II
6
French II/German II
6
Applied Linguistics in Education
6
Applied Computing
6
Spanish Language and Communication II
6
Second Year
SEMESTER 1
SUBJECTS
CREDITS
TOTAL
30
English III
6
French III/German III
6
Descriptive Linguistics I
6
Applied Documentation
6
Applied Linguistics and Mind
6
SEMESTER 2
SUBJECTS
CREDITS
TOTAL
30
English IV
6
French IV/German IV
6
Descriptive Linguistics II
6
Linguistics Applied to Business
6
Linguistics Applied to Technology
6
Third Year
SEMESTER 1
SUBJECTS
CREDITS
TOTAL
30
Sociolinguistics, Community and Ideology
6
French V/German V
6
Structure and Meaning of Languages
6
Language Production B and C
6
Elective (EL) I
6
AVAILABLE OPTIONS
Language Teaching and Learning -
MLEN and ENTEDU (EL)
6
Corporate Organisation - MLEN and ENTEMP (EL)
6
Specialised Language A and B (EL)
6
Literature in English (EL)
6
SEMESTER 2
SUBJECTS
CREDITS
TOTAL
30
Introduction to B-A Translation
6
Language C and its Culture (French) /
Language C and its Culture (German)
6
Specialised Communication and Terminology
6
Elective II
6
Elective III
6
AVAILABLE OPTIONS
Scientific and Technical Translation -
MLEN y ENTEMP (EL)
6
Legal and Financial Translation -
MLEN y ENTEMP (EL)
6
Literary and Humanistic Translation B-A (EL)
6
Spanish Literature (EL)
6
Analysis and Design of ICT-Driven Didactic
Materials for FL Teaching and Learning (EL) -
MLEN y ENTEDU (EL)
6
Second Language Acquisiti
6
Fourth Year
SEMESTER 1
SUBJECTS
CREDITS
TOTAL
30
Empirical Research Methods
for the Study of Language
6
Corpus Linguistics and Textual Analysis Tools
6
History and Culture of English-Speaking Countries
6
Editing and Revising
6
Elective IV
6
AVAILABLE OPTIONS
Content and Language Integrated Learning -
MLEN and ENTEDU (EL)
6
Fundamentals of Public Relations -
MLEN and ENTEMP (EL)
6
Audiovisual Translation and Localisation B-A (EL)
6
B-A Translation I (EL)
6
C-A Translation I (EL)
6
SEMESTER 2
SUBJECTS
CREDITS
TOTAL
30
Intercomprehension and its Didactics
6
Internship
12
Final Project
6
Elective V
6
AVAILABLE OPTIONS
Curriculum Design, Planning and Assessment -
MLEN y ENTEDU (EL)
6
Language Services in Organisations -
MLEN and ENTEMP (EL)
6
B-A Translation II (EL)
6
C-A Translation II (EL)
6
Access and Admission Requirements